Never doubt that a small group of thoughtful committed citizens can change the world; indeed, it's the only thing that ever has.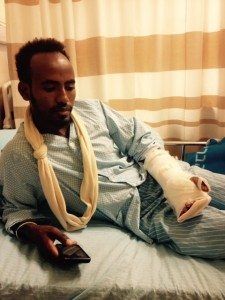 I have read cultural anthropologist Margaret Mead's quote countless times and yet it was not until this morning that I came to understand the truth in her words.
Last July (diary July 20, 2015) we shared the story of Awaad who left his homeland of Eritrea at the age of 17 to avoid the draft (which is essentially a lifetime of slavery in that country) and successfully crossed the border to Sudan. There he lived in a refugee camp for two years and dreamed of crossing the Mediterranean to Europe and perhaps to North America. While in the camp he (like many others) was kidnapped by Bedouins and taken to Sinai where he was held hostage and tortured before a ransom of $13,000 was eventually paid by family and friends. After six months, he was released at the Israeli border, picked up by the IDF and transferred to an Israeli prison in the Negev. After three months in prison he was released onto the streets of South Tel Aviv where he discovered a friend from home who took him in and helped him settle in Israel.
Up until this point Awaad's story is much like the story of thousands of other African refugees who have left their homeland in search of safety and security. But—last summer everything changed when Awaad was brutally attacked on the street by a deranged man who swung a machete at him hoping to end his life. Awaad threw his arm up to protect his head and in so doing his hand was severed. The attacker fled as Awaad fell to the ground.  We will never know how Awaad had the presence of mind to apply pressure to stop the flow of blood from his arm, but that action no doubt saved his life.
Doctors at Tel Hashomer Hospital worked for 11 hours to successfully reattach his hand. It was at this point that our friend and grantee Gideon Ben Ami who runs a food program in Tel Aviv heard Awaad's story on a news program and decided to visit him in the hospital. From that first visit Awaad's life changed. Upon his release from the hospital Awaad returned to Gideon's home where he recovered from his trauma in a safe and caring environment. Physical therapists donated their expertise to ensure greater use of his hand and eventually he moved back in with his roommates and even found some part-time work. Gideon's support was augmented by a group of compassionate neighbors from the city of Zichron Yaakov who provided Awaad with both financial and emotional support.
It was clear throughout this journey that for Awaad to have a future he would have to leave Israel. A few weeks ago, Gideon approached his friends at the Swiss Embassy and asked about the possibility of a humanitarian visa.  A good family in Zurich agreed to be Awaad's sponsor and to everyone's amazement the Swiss government issued the visa this morning.  Awaad will soon leave for Zurich and a new life.
Awaad's story portrays both the worst of humanity and the best. The evil that confronted him began in Eritrea, continued with the kidnapping in Sudan, torture in the Sinai, imprisonment in Israel and finally the attack in Bnei Brak. Despite all of that, goodness has prevailed. Doctors gave their time and expertise to save his hand, Gideon befriended him in hospital, our donors offered funds to help support his needs, a physical therapist offered critical care, the good people of Zichron offered friendship and material support, a generous family offered to sponsor him and, finally, the Swiss ambassador acknowledged Awaad's tragedy and arranged for his visa to Switzerland.
Awaad's story began with his dream to leave his war torn homeland and make his way across the Mediterranean to Europe and then, perhaps, America. We are proud of the part we played in getting him to where he will be very shortly. With the help of many good people in this world good can prevail over evil—we see it every day.