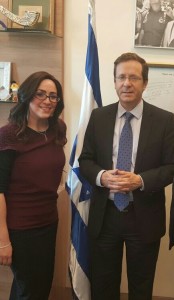 I want to thank you for your support, and would like you to know that  this award  is for you and your donors that help me  and give me the opportunity to make those important changes for my sisters.
With all of yesterday's news about International Women's Day now past we were excited to receive this picture and an email this morning from Fainy Sukenik, the founder of Ba'asher Telchi, our Israel grantee that provides social, legal and financial advice to women from the Hareidi community who are facing divorce but do not want to leave their community. When we met Fainy in Israel a few weeks ago we learned that the demand for her organization's services was increasing exponentially and last year alone more than 400 women benefited from their help.
We are not surprised that Fainy was selected by the Committee on the Status of Women as one of the 20 women (from  the entire Israeli population) who contribute to  the change in women's status. She is a star. Pictured with Fainy at the Knesset ceremony is Isaac Herzog, chair of the Labour Party.