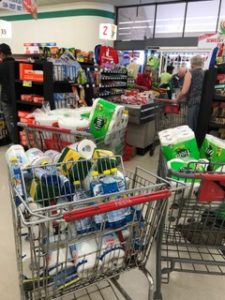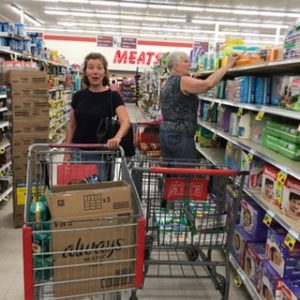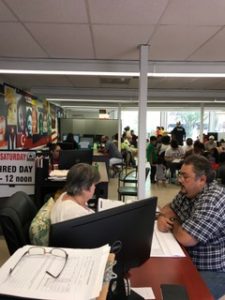 Last evening, through our Houston grantee, Yan Digilov, we connected with Cathy Moore, the Executive Director of a small health clinic that services families and individuals in one of the hardest hit parts of the city.
Cathy explained that those who rely on the clinic have an average monthly income of about $1,100.  She was expecting today, the first day the clinic would be open post-storm, to be very difficult. Cleaning supplies, toiletries and other basic needs were needed.
After making some simple arrangements, we gave Cathy a budget and told her to shop.
These pictures will attest to the fact that in less than 24 hours, Cathy and her volunteers had shopped and grateful clients received what they needed to start the long clean-up.
We expect to continue to work with Cathy over the next several weeks as additional needs become known. These are people who have lost everything—clothing, furnishings, kids' toys, books and so much more. We hope we can make their lives a bit easier during this traumatic time.
Stay tuned….