Mentoring At-Risk Teens to Help Them Succeed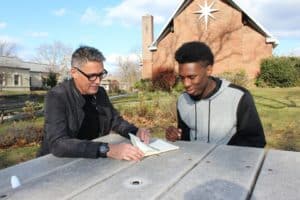 Paul Muratore had a long and successful career as an executive in a large a New York-based advertising and talent agency. Long hours, a daily commute and the responsibilities that come with managing hundreds of employees and a multi-million dollar budget were challenging. But, what Paul really enjoyed in his life was the time he spent mentoring teenage boys who were part of a  nearby residential treatment center for at-risk youth. His interaction with those young men about to leave the safety and security of the center for the challenges of life in the "real world"  brought him enormous satisfaction and got him thinking.  Before long he sold his company and began Connections, a program that matches adult volunteer mentors with teens ready to leave the treatment center to make the critical transition to an independent life.
Though still in its earliest stages, Connections is growing as Paul attracts new mentors (and even some for his own education in the best ways to run a nonprofit) and involves additional centers in his efforts. Our matching grant has allowed Paul to add critical staff that allows him to concentrate on successful growth.