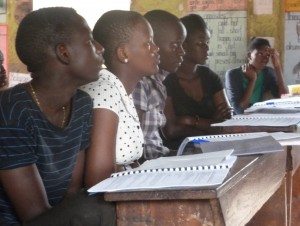 "Quadratic Expression & Equations"," Verb Tenses, Direct/Indirect Speech, Letter Writing, Poetry Composition"," Photosynthesis in Plants, Nutrition in Plants & Animals, Circulatory System"—all subjects we would expect to be taught in high schools around the country. In this context they are actually part of the course syllabus for senior students at Saint Mary Kevin Children's Home in Uganda and part of a report sent to us this week by Gloria Baker Feinstein, founder of Change the Truth (CTT).
It was Gloria's trip to Uganda in 2006 that introduced her to this group of children, many of whom were orphaned due to the AIDS outbreak in Africa. Vowing to "change the truth" for these young people, Gloria began CTT which provides funding for food, shelter, clothing, medical needs, education, and more.
The Good People Fund's grant has made it possible for the senior students to receive intensive tutoring and enrichment classes during holiday periods. Gloria's recent detailed report has proven to us once again the impact of our funds. We could not be happier knowing that these young people, who had little chance of a bright future, may now go on to college and become self-sufficient, productive members of society.