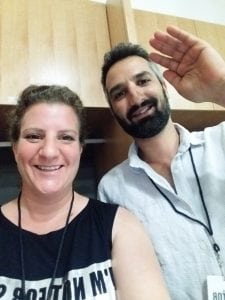 Hi Naomi,
Your two kids are in the final of this amazing award WeWork creator awards Jerusalem. From thousands of ngos we made it to the final three. Met here this morning for production walk-through.
Love you!
Lilach and Yoni
What a great way to wake up this morning! An email from Yoni Yefet-Reich and Lilach Tsur Ben-Moshe, founders of Kaima and Yotsrot, shared that they are two of three finalists (among the thousands considered)  in the Jerusalem WeWork Creator Awards.
We are not surprised, could not be prouder and are touched that they see themselves as two of our "kids".  Indeed they are! (But how will we feel when only one can win the competition:-)?