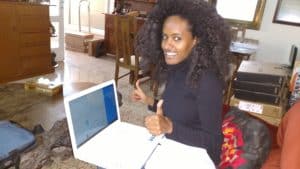 Can any of us imagine navigating school without the use of a computer?
For many young Ethiopians, all the first in their families to attend college, having a computer is not a given. Our friends at The Forgotten People Fund in Israel have a backlog of worthy students who would benefit greatly from such a learning tool which made it an easy decision to underwrite the purchase of nine new computers to help reduce the number of students on the waiting list.
Belaynesh, pictured here, was thrilled.  Is it any wonder why "she said that she feels like she won the lottery"?