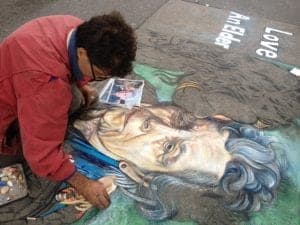 She wore a colorful headscarf and a broad smile greeting her guests one recent afternoon, inviting them to sit and enjoy chocolates set out on her small kitchen table.
Meet Irene Filo. She just turned 108. She lives in a small apartment in New York's Morningside Heights. She uses a walker to move her slight frame about. She has no family. A live-in caregiver tends to her physical needs.
Irene is at a point in life when frailties, illnesses, memories and limited support can lead to an isolation and loneliness and longing so great as to be devastating to wellbeing and survival.
So it's no surprise that she welcomed her visitors from LiLY (Lifeforce in Later Years) – a grantee of The Good People Fund – with such natural joy, care and anticipation. In very real ways, they are her connection to community, humanity and life.
LiLY creates that connection for about 100 elderly persons in Morningside Heights, a diverse and vibrant neighborhood that includes Columbia University, but where seniors living in relative isolation – some at or near the poverty line – can easily disappear.
"Just like anyone, they need validation and support and purpose and to feel valued," said Irene Zola, LiLY's founder and executive director. "They are too often not getting that. It's tragic."
Zola founded LiLY in 2009, shortly after the death of her mother and exposures to the nursing home system and its deficiencies, including undertrained and overworked staff often unable to dispense adequate and informed care.
Realizing that most seniors prefer to remain at home as long as possible, and that many in fact do, she moved to create a neighborhood organization devoted to supporting this often-forgotten population for no charge.
So she set up a card table on the sidewalk of a busy street and began recruiting volunteers. Today, LiLY has built a corps of about 100 people in Morningside Heights serving a near equal amount of seniors there.
The spectrum of volunteer interactions is wide, from friendly home visits and walks together, to helping with paperwork, escorting to doctor visits, making connections to professionals and services, and going to the pharmacy or grocery store for needed items.
The Good People Fund supports LiLY with a grant that helps pay for a social worker who connects seniors to services and resources beyond LiLY's scope, helps families with care issues, and runs support groups.
"I have had some perfectly wonderful people come see me," said a 97-year-old senior in the LiLY network. "It is good to know there are such people around. I thought they all died in a fire or something!"
LiLY calls its initiative in the neighborhood "Morningside Village," a name that captures its very unique qualities creating community in not only name, but in practice. Most volunteers come from within the immediate neighborhood, for instance, sharing common points of reference and such with the seniors they visit and help.
"People are being connected in ways they wouldn't be otherwise," Zola said. "We may run into each other on the street while out taking walks or going to the doctor. It is like a small village."
The success of Morningside Heights Village has been replicated elsewhere by LiLY. An initiative further east, called West Harlem Neighbors, began in 2016 and now involves about 25 local volunteers helping about 50 elderly persons.  And in upstate New York, LiLY formed community partnerships to create the Catskill Neighbors program, through which about 25 volunteers are helping a nearly equal number of seniors there.
Zola has moved LiLY into the advocacy field as well.  The organization is the force behind Celebrate Our Elders Week, marked at the beginning of October and recognized by the mayor of New York City and the state legislature of New York through official proclamations.
The purpose of such a public campaign, Zola said, is to ensure that seniors in our communities are not forgotten, but recognized, seen, and even honored, and that their needs are understood, acknowledged and supported.  LiLY has worked with the New York City Department of Education to create activities such as letter writing to elders and inviting them to visit schools.
"We want to kill ageism early in life," Zola said, "and ensure that young people grow up honoring and respecting seniors."
LiLY's volunteer-driven program has immediate trickle down effects beyond the seniors themselves. If a family caregiver exists – and often one does not – home visits or errand running by LiLY volunteers can relieve very real stresses and conflicts.
"If I know that a LiLY volunteer is coming on Tuesday, then I know that I can leave and take the day to myself," said Genia Gould, who stopped working and moved into her father's Morningside Heights apartment to take care of him and his daily affairs. "For him, the visits are a vitamin. For me, they open time to take care of myself."
Recently, LiLY volunteers, clients and others gathered at an annual luncheon.  Among them was Irene Filo.
Being that her birthday was close, everyone sang her a rousing "Happy Birthday" in celebration of her life, her friendship, and her indomitable spirit.
Her smile was as wide as it was that other afternoon, when LiLY volunteers came knocking on her door for a visit over chocolates.
By H. Glenn Rosenkrantz, for The Good People Fund