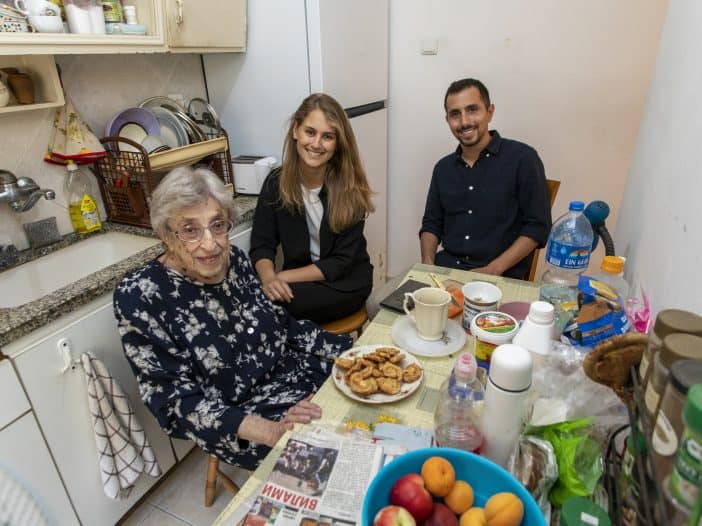 "I'm alone and there is no one. So it's nice when someone thinks about me"

— Sarah, age 86
She was a geologist for decades in Kyiv, working in an exacting field surrounded by colleagues, and beyond them a social circle that nourished her.
But 16 years ago, facing serious surgery at age 70 and with few medical options in Ukraine, she came to Israel to see the specialists she needed. She decided to stay.
Sarah was in her late-80s when she passed away in her small and cramped ground-floor apartment in Haifa in August, just weeks after GPF spoke with her.
With no children, and at an age when friends are lost and new ones hard to find, she was in danger of losing connection to the world beyond her front door.
"I'm alone and there is no one. So it's nice when someone thinks about me," said Sarah, a Holocaust survivor.
That "someone" was Heart to Plate, an organization founded in 2020 by Matan Asulin and Ronnie Lee. The two young Israelis believe that the emotional and physical well-being of elderly, isolated people like Sarah can be elevated by a community of care dedicated to bringing them home-cooked meals and some companionship along the way.
"It is more than food," says Ronnie. "They know they are not alone in the world anymore. That is the most important thing."
Heart to Plate, a GPF grantee, creates a cadre of volunteers dedicated to isolated, elderly persons. Each Friday night and on holidays, volunteers bring a home-cooked Shabbat meal and create a much anticipated experience of connection.
"We are not just creating community for our elderly and isolated neighbors, we are bringing them back into the community," says Matan. "We see the relationships between them and our volunteers growing stronger over time."
Connections are typically made through social welfare agencies in cities and municipalities where the organization is active. Volunteers — there are about 400 now — come from word of mouth, social media outreach, and emerging partnerships with companies, schools and youth movements.
Heart to Plate began as a small pilot initiative bringing Rosh Hashanah meals and visits to five elderly people in 2020. In the short time since then, it has grown to serving more than 200 beneficiaries in five cities.
When he sent word of Sarah's passing to GPF, Matan highlighted the gift of Heart to Plate.
"It's comforting that Sarah was surrounded by people who cared for and visited her in her last year."