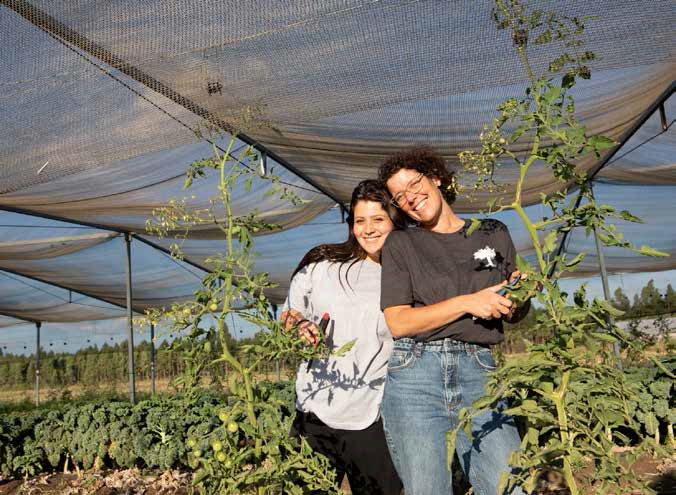 "I think this place saved me."

— Avigail Sanderovitch, age 17
She and the demands of formal schooling weren't a good match, and so she often skipped classes and entered the void of unstructured days and undefined goals — and all that can lead to.
But at age 14, urged on by her sister, Avigail Sanderovitch walked into Kaima Be'erotayim in Israel's Hefer Valley, and her life and prospects took a dramatic turn upwards.
"I think this place saved me," says Avigail, now 17. "I can't even imagine where or what I would have been if I didn't come here three years ago."
Kaima Beerotayim, a GPF grantee, is a bucolic educational farm that uses the healing power of nature, utilizes employment as a learning tool, and leverages the notion of community — all to shift the downward trajectory of youth unable to relate to normative school settings.
"There is not one way to learn or one place to learn in," says CEO Rani Erez, who co-founded Kaima Beerotayim with her mother and sister on family land in 2015. "There are so many possibilities and so many needs."
For Avigail — who by arrangement attends school for a minimal number of days per week, and spends other days at Kaima Beerotayim, time there can look any which way … from practicing farming techniques and tending to vegetation out in the field … to helping to manage the farm's Community Supported Agriculture (CSA) program.
But beyond these highly useful skills that seed productive futures for Kaima Beerotayim youth, there is the intentional communal structure that creates hope and support into the future.
"This is our home, and a family structure is one of our focal points," Roni says, describing, just as an example, how the Kaima Beerotayim community gathers for breakfast each morning to discuss the day ahead and what's on everyone's minds. "That personal connection brings them back morning after morning."
For Avigail, the familial relationships are central, she says, to being seen and heard and giving her a grounding for life.
"This is more than a place to go, or a place to work. It is literally family to me. If I have issues with life, I have someone to talk to. I see Roni as my second mother. She is there all the time for me. All the relationships I have here, I won't find anywhere else, and I couldn't be without them."