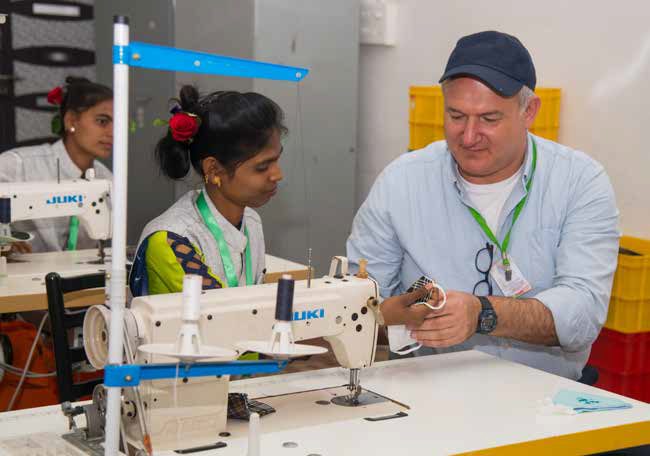 "For the first time, I have economic independence."

— Shramilla, age 23, of Mokhada, India
She attended a government-sponsored training program to learn how to sew, believing that it would equip her to move on from menial jobs that paid little.
But in Palghar, a district just north of Mumbai in India, there was no sustained need for her new skill, so Shramilla returned to working in rice paddies and doing odd chores with little pay and no prospects.
That is, until Gabriel Project Mumbai (GPM) — a Good People Fund grantee — established its Tribal Threads program in Mokhada five years ago. In this remote, underserved and challenged village, about a dozen women work in a sewing collective making products like face masks for UNICEF, cloth products for area hotels and other contracted items.
Many of the women use machines bought by The Good People Fund for Tribal Threads. And beyond that space, more women participate and work from home in nearby villages.
"A goal is to give women in the most vulnerable communities a livelihood," says Jacob Sztokman, GPM's Founding Director. "It means they have options, and the ability to make better decisions for their own lives and for their families."
Tribal Threads is just one example of GPM's multiple creative programs that collectively reflect its holistic mission to break the cycle of poverty and lost opportunity within urban slum communities in Mumbai and in rural villages in remote areas beyond the city.
The GPM approach elevates multiple intertwined and mutually supportive pillars supporting community development: nutrition, health, education, and livelihoods. "You don't just give great education and then everything is good. You need a more robust idea of community development," Jacob says.
Besides the Tribal Threads program, The Good People Fund has supported other GPM programs advancing women's livelihoods and the positive rippling effects.
One is Masala Mamas, a kitchen collective in which women cook hot meals delivered to children in school, and promote positive nutritional outcomes. Another is Niyama (Hindi for "healthy living"), a year-old social enterprise growing livelihoods through preparation and marketing of non-medicinal tribal remedies, such as balms and oils.
For Shramilla, now 23, the sewing collective was the catalyst it was designed to be. With some additional GPM training, she learned new sewing skills — like advanced stitching and embroidery — and was able to get a second job making traditional kurta shirts. Later, she saved enough money to buy her own sewing machine, and began her own business employing two other women.
"For the first time, I have economic independence," Shramilla said proudly and with gratitude.