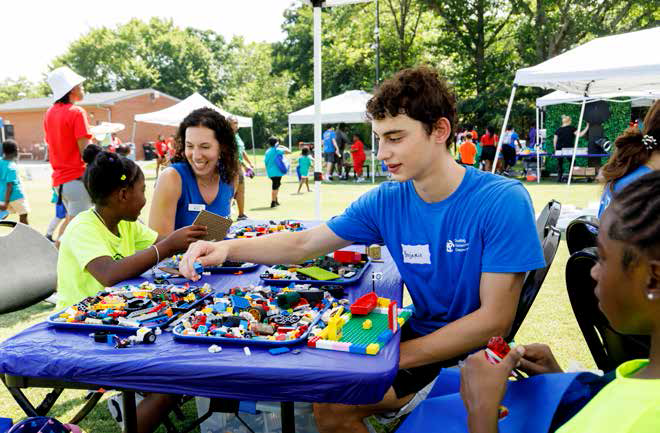 "There's no way I can't help out and try to change things."

— Benjamin Schrager, Leadership Development Program participant
At any one of Creating Connected Communities' (CCC) myriad events for Atlanta-area children and families facing hardship, you may see Benjamin Schrager.
There, he could be running an arts and crafts table — or handing out food, books, and "Smile Bags" with personal care items — or just talking to and connecting with kids and hearing what they have to say.
More broadly though, Benjamin personifies a key thrust of CCC's drive to enhance the lives of these children through creative and robust programming, and at the same time empowering teens to become engaged community volunteers and leaders — now and for the future.
"My participation is expanding and shaping my world view, and is a factor in the way I act and define myself," says Benjamin, a high school senior who is a member of the Leadership Development Program of CCC, a GPF grantee.
The program engages Jewish teens in grades 8 to 12 to incubate a young generation for lifetime roles as leaders in the social impact sector and beyond. A formal curriculum offers a deep dive into such issues as leadership within a Jewish context and social justice, to more practical skills including community partnership building, public speaking and fundraising.
The Leadership Development Program began with 20 participants in 2010, and reaches 273 teens this year. Many stay in the program for four years, making it one of their longest and most immersive high school commitments, and an alumni program keeps many involved for years to come.
"They all come from different places and orientations and sets of experiences, and I often see that 'light bulb' moment when potential is unlocked, skills are practiced, relationships are solidified, and impact is made," says Amy Zeide, CCC's Founder and Co-Executive Director.
"There are elements of fun and excitement that our participants bring, along with an intense community mindfulness. They recognize they are building leadership skills and relationships that will greatly inform their paths forward."
Benjamin became familiar with CCC when he raised money and participated in activities for the organization as part of his Bar Mitzvah project. He was so drawn, he says, to CCC's grassroots impact, the opportunity to look at community challenges in the face, and the camaraderie among CCC's teen leaders, he applied to and joined the Leadership Development Program about a year later.
"I don't know how else I would be exposed so intimately to the challenges and situations of people in our community who are struggling," Benjamin says. "Now, there's no way I can't help out and try to change things for them and others."