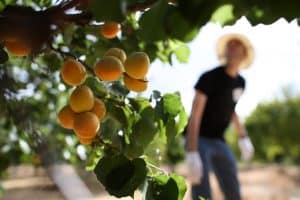 It wasn't easy, because the orchard was on a sloping hillside carpeted by loose dirt.  So keeping footing while plucking apricots from ripening trees was a challenge.
But the dozen-plus volunteers who showed up in late June to harvest this orchard were as dexterous and balanced as they were committed and focused.
"If it has some color on it, then pick it," one veteran volunteer told a newcomer. "Each one we get is one that would have gone to waste if we weren't here."
And in just a few hours, over 700 pounds of the luscious fruit had been picked, boxed and hauled off to food agencies for quick distribution to people in need – an estimated 1,400 from this one day alone.
The late-afternoon pick, which continued toward dusk, was a snapshot of the work and impact of Village Harvest.  It's a San Jose-based non-profit organization dedicated to gathering the bounty of fruit growing in backyards and small orchards and getting it into the hands and onto the plates of those who may be going without.
The area around San Jose – including Santa Clara, San Mateo, Santa Cruz and San Benito Counties, where Village Harvest is active – is one of the most verdant in the country and boasts an agricultural history and spirit that is legendary.   It is rare for suburban properties here not to have a fruit tree or two, and many larger estates have full orchards conserved by owners.
Such is the case where this particular apricot harvest took place.  Nestled on an estate high in Los Altos Hills, with sweeping views of the Bay Area, an orchard with about 80 apricot trees was bearing fruit at peak season.  But for Village Harvest and its volunteer corps, much – if not all of it – would have gone to waste.
"Many property owners here are well aware of the history of this region, so they don't want to plow down these trees, but they don't want to be farmers either," said Craig Diserens, Village Harvest's executive director.  "That is where we step in."
Volunteers harvest fruit of all sorts – from apricots and pears, to apples, oranges and lemons – at no less than 600 homes and 30 orchards throughout the year.
All this work makes a hefty impact on many pressing societal challenges, like hunger, poverty and healthy eating for vulnerable populations.  In 2017 alone, volunteers picked 225,000 pounds of fresh fruit, which translated to 600,000 servings of healthy food for tens of thousands of people in the community.
The Good People Fund, which makes food rescue and the alleviation of hunger a priority, has supported Village Harvest with grants to help cover the costs of harvesting and development of a directory of produce donation locations.
Diserens, a former computer hardware designer and R&D manager who also worked at high-tech start-ups, described Village Harvest as an "accidental organization," founded more organically than purposefully, but developing and growing in reach and impact since its first harvest in 2001.   He recalled how a local 4-H chapter approached his wife at the time, a Master Gardener, for advice on where to locate fruit to make jam.
"We realized there was infinitely more around us than anyone would ever need to make jam," he said.  "It was more of a sense of recognizing abundance around us and wanting to put it to good use to help people."
Village Harvest now relies on Diserens' strategic and visionary acumen honed in Silicon Valley, and the sweat of 1,200 volunteers from throughout the community who in total contribute about 12,000 hours of work each year.  Their purposes are varied, from those passionate about food waste and poverty, and those who are interested in gardening, to those who want to be outdoors doing something useful and social, and parents who come with their children to instill an appreciation for hard work and the earth.
For volunteer Sue Godfrey of nearby Los Altos, the June apricot picking marked her 40th event with Village Harvest.  Her first, three years ago, was with her son as part of a high school service league project, one of many community partnerships that Village Harvest has forged since its founding.
"It is doing good while getting good exercise and being very social," she said.  "And as volunteers, we get to bring home some of the fruit that is damaged and not good for distribution.  I've done a lot with plums."
The community-building power of Village Harvest has grown as a reflection of the organization's work.  In fact, "strengthen our community" is part of the heading on its website.
Beyond the camaraderie among volunteers joined in a food justice activity, workshops and resources are available covering everything from fruit tree care and gardening, to making preserves and pruning.
Back at the staging area at the edge of the orchard, volunteers were examining apricots and separating out ones damaged or not fully ripe, ensuring the highest quality shipments to community service and food agencies that form Village Harvest's distribution chain.
"Every community should have a Village Harvest of its own," said Diserens, as he looked over the bounty. "What abundance they tap into may vary, but the sense of community spirit and doing good is the same, and so inspiring."
By H. Glenn Rosenkrantz, for The Good People Fund