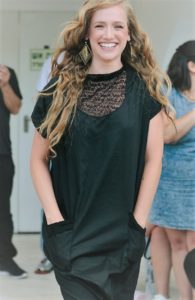 Every woman knows how important it is to have that "little black dress" hanging in the closet. It's the one that is just right for so many different occasions.
For the women who are part of the work of our Israel grantee, Yotsrot, started by Lilach Tsur Ben-Moshe, fashion design is one of several ways they have empowered themselves to leave the cycle of prostitution and gain self-confidence and independence.
We love the pictures they just sent us highlighting their latest fashion show and the beautiful creations displayed there. Knowing that the Good People Fund's support of this program has made shows like this possible could not make us happier.
Wouldn't you like to have one of these, too?