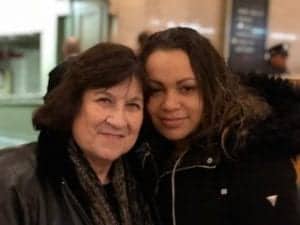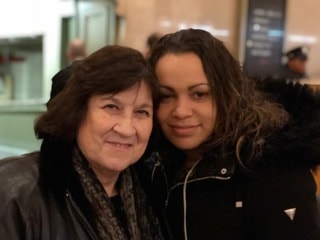 She described a journey through a darkness most know nothing about – that of a professional Jewish woman navigating the netherworld of prison life and later reemerging into society to reclaim her dignity and purpose.
Evie Litwok was at a New Jersey synagogue speaking at a social action Shabbat, and if her tale of a life bent to extremes by the criminal justice and penal systems created awareness through discomfort – and it did, judging alone from the air in the room – then she hit her mark.
"I am gifted with being articulate, and so I have to tell this story," she said. "I need to use all my strength to make people aware and force change."
That story is one of two decades fighting charges of white collar crime and culminating in two years in federal prisons – including a stint in solitary confinement. The experience introduced her all too intimately to social malignancies and human rights abuses festering and growing there, from homophobia to misogyny to racism and just about everything in between.
"I've never been physically or emotionally the same since then," said Litwok. "I have no serenity anymore. I have no choice but to channel what I've seen and experienced into activism. I am a baby of the civil and women's and gay rights movements, and I've never checked my activism, and I'm not going to now."
The vessel of her impact is not only her own voice, but also the organization that she founded in 2015, Witness to Mass Incarceration (WMI). It is creating initiatives to raise public consciousness of conditions and abuses within the nation's justice and penal systems and advocating for change.
The group is one of the Good People Fund's newest grantees and received a matching grant to bolster its capacities, reach and effect.
Among WMI's initiatives is a nascent but growing library of digital testimonies of formerly incarcerated individuals, giving a record of their experiences an archive and public platform. So far, about 25 people have sat for interviews.
The focus of the testimonies, and WMI in general, is on women and members of the LGBTQ community – individuals Litwok said are most vulnerable to abuses in the justice and penal systems and beyond.
"We must change the narrative from invisibility and victimization to empowerment through documentation, organizing and advocacy," she said.  "Once someone sees the human faces of incarcerated people and hears stories, they will be more likely to support reform of a system that prioritizes punishment at every step."
The group just this year launched a new initiative – The Suitcase Project – that seeks to ease the move to civilian life for those just released from prison and transitioning psychologically and physically to realities and demands that they are too often unprepared to face even within existing social services networks.
The project quite literally gives just-released people a suitcase with a laptop computer, a mobile phone with pre-paid minutes of usage, gift cards for groceries and clothing, and other essentials to help them build paths to productivity and self-worth.
The impetus for it came from Litwok's own experience. She left prison in 2014, her resources depleted, her social support network nearly non-existent, and with scant prospects.
"Reentry is worse than prison," she said. "Rarely is anyone waiting for you, rarely do you have housing, rarely do you have a community of support, or a job.
"I was given $30 and sent on a bus to Port Authority in New York. I was homeless and penniless for 16 months.  I understood poverty for the first time in my life."
So far, two individuals leaving prison have received a suitcase, and a third will later this spring. Chasity, 33, began her journey back into society in January and said the Suitcase Project provides not only material support, but also represents and plants hope.
"It is just hard to re-enter with absolutely nothing," she said, adding that she is starting undergraduate studies in criminal justice.  "So the suitcase opens doors to positivity and moving in the right direction as opposed to just being overwhelmed and feeling forgotten."
The suitcase and its contents don't come cheaply, and Litwok visits synagogues, like the one in New Jersey, to make the case for sponsorship of one, and in the process create a community of caring for those leaving prison and beginning new lives.
"The greatest thing we can do for each other in this life is to form and nourish community in all of its forms," she said.
Speak with Litwok for any length of time and she will come to share the fact that her parents are survivors of the Holocaust, and that her closeness to that experience and her embrace of Jewish practice in prison informs and powers her passions and desire to make change.
"The Holocaust didn't end for us in 1945," she said. "It was a framework for me growing up, and how I see the world and the 'other,' and is simply part of who I am and a driving experience. If we really believe all that we say about 'never again,' then we can never allow those words to lose their meaning and value, and always be working to snuff out injustices and abuses so they don't become the norm.
"I am up against the clock in my life at this point, and this is all that matters now. I don't need to impress anyone for the rest of my life. I don't care about making money. The driving Jewish values that we talk about don't mean anything unless we make them mean something. I hope I'm doing that."
By. H. Glenn Rosenkrantz