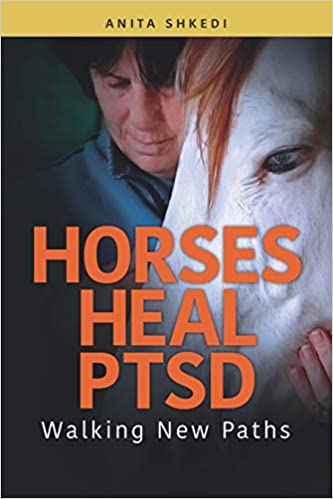 An unexpected moment of sadness and isolation visited Dr. Anita Shkedi as thoughts of her son Jonathan – an Israel Defense Forces soldier who lost his life in conflict – overwhelmed her.
At the time, she was at an equine center she had founded on the Israeli coast to advance the practice of therapeutic horseback riding. A Pinto horse named Starlight sensed her distress and came close.
"I may have started to cry, as feelings were coming up in me," she remembered. "She put her head up against me. She pushed into me and we were bonded. As I let my feelings out, she was telling me she was there for me."
There on the cover of Dr. Shkedi's just-published book, Horses Heal PTSD – Walking New Paths, is a picture of that very moment. A documentary filmmaker, who happened to be on the property that day, captured it.
Considering that Dr. Shkedi is an established authority on the relational history between humans and horses – and the immense mental and physical healing benefits that can flow from it – the fact that she herself was the recipient at a time of raw vulnerability is remarkable, and makes the book itself even more passionately grounded.
"I will never forget it," she said. "It was one of the most emotional and genuine moments I've had with a horse. It was like together we were not in this universe."
It is of this relationship that she writes over 238 pages of contextual histories and case studies of how PTSD – afflicting all manner of people from children who have been sexually abused, and soldiers who saw and endured the horrors of conflict, to women who have been raped, and youth living with domestic violence – can be mitigated through purposefully designed interaction with horses, including caring for and riding them, and creating bonds.
The research and practice is colloquially known as therapeutic horseback riding, and more formally as Equine Assisted Activities and/or Therapy (EAA/T). Dr. Shkedi – a pioneer in the discipline – adds to the growing literature on the subject with the new book.
"It is heavy stuff," she said. "But I hope to the lay reader, this will be almost a self-help book. People have multiple traumas and they spend a lot of time trying to shut them out and avoid the monsters coming to the surface. We need to deal with them and instill hope.
"You can't quick fix PTSD. You have to work it through a process until you can manage it so it doesn't take over every part of your brain. That is my aim, by using our relationship with horses and the non-verbal communication that occurs to restore trust and build healing."
The book is Dr. Shkedi's second. In 2012, she authored Traumatic Brain Injury and Therapeutic Riding, a more clinical examination of how horse-based therapies can be used to help people suffering severe head injuries.
In 2003, Dr. Shkedi and her husband, Giora, founded the Israel National Therapeutic Riding Association (INTRA) – a veteran and longtime grantee organization of The Good People Fund – as a national center for EAA/T in Israel.
It serves a full spectrum of children, youth and adults with significant life challenges to improve their long-term physical, social, and emotional well being, and is particular known for its work with IDF soldiers with PTSD.
Of the book's reception so far, Dr. Shkedi said she is already in contact with people seeking help. One woman in Texas, for example, reached out because her 10-year-old son is experiencing PTSD due to multiple physical and psychological traumas.
"If through this book I can give hope to those who are suffering, then it's done its job."
Dr. Shkedi will read from her new book and answer questions on a live Zoom event at 1 pm Eastern on Wednesday, May 5.  To register, visit www.anitashkedi.com.
By H. Glenn Rosenkrantz