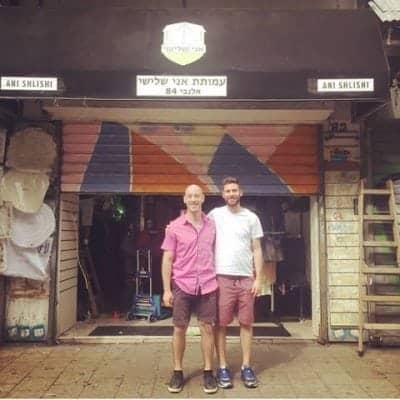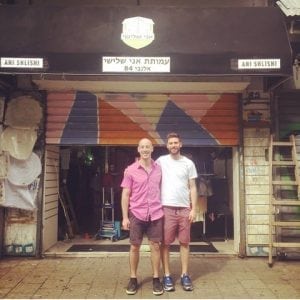 David Baskin, left, and Ilan Kedar, co-founders of Ani Shlishi, in front of the organization's new secondhand clothing store in Tel Aviv before it opened in the spring.
There's a new shop selling clothes on Tel Aviv's busy Allenby Street.  Ordinarily, that's not so remarkable, but upon closer look, this one is.  It has a mission:  uplifting lives and community.
Ani Shlishi, it's called.  In English, that translates to "I am third."  Signs within the store, like the artful one near the register, go deeper.  "First comes the greater good, the welfare of others is second, and I am Third," it reads.
Ask David Baskin, the Chicago-raised, 28-year old CEO of Ani Shlishi, and he'll tell you about Ross Freeland, his teacher and baseball coach at Evanston Township High School. He repeated and lived these words, until his death in 2016, instilling in his students a sense of individual sacrifice for the good of others and community.
"It was the idea of being a selfless, generous, kind person, with responsibility to others, whether through the prism of being a teammate on a baseball team or just as a human being," Baskin said. "That never left me."
In fact, this brick-and-mortar retail store, which opened in a 55-square-meter space in the spring, is the face of a non-profit organization of the same name.
Ani Shlishi collects secondhand clothes for resale, employs at-risk Israeli youth along the operational chain to give them marketable skills and a future, and uses sales proceeds to fund vocational training scholarships for them and other youth similarly situated on an at-risk spectrum that includes poverty, drug use and homelessness.
The Good People Fund is partnering with the organization with a grant for stipends for young Israelis working at the new store.
"For many of them, this is the first time they have the validation that they can actually be someone," Baskin said.  "We are giving them permission to dream of infinite possibilities.  Everyone wants to be someone, but not until now has anyone given them that encouragement."
Ani Shlishi originated in 2016 when Baskin, a lone soldier in the Israel Defense Forces (IDF), noticed that other soldiers – like him finishing their service – were discarding piles of clothes and other usable items before leaving the kibbutzim where they were housed.   He started collecting them for donation to orphanages and other agencies dedicated to underserved populations, and saw first hand how peoples' lives can be changed by small acts.
Soon, he teamed with his friend and former superior officer in the IDF, Ilan Kedar, who was then working in Israel's booming high-tech sector, and the two began scouring Tel Aviv for secondhand or never-used clothing to keep up a steady stream of donations.
"David's entire two-bedroom apartment in Tel Aviv was stacked with the clothing we were getting," said Kedar, 27, now Ani Shlishi's COO.   "We would spend hours and hours all night long going through them to decide what to donate or recycle.  It was intense. What we were doing became a part of us and we knew it was making a difference."
In less than a year, the pair was running pop-up secondhand shops throughout Tel Aviv, selling collected clothing and using proceeds to help at-risk youth in the city.  Soon, they had an established stall at Tel Aviv's bustling Shuk HaCarmel, where Ani Shlishi's visibility and sales soared and the need for a more traditional and roomy retail store became apparent.
The two view the store as a multifaceted center of doing good, touching everyone from those who enter it with bags of donated clothing, and customers who are supporting community, to at-risk youth working there, gaining self-worth and new skills, and those getting vocational training through Ani Shlishi scholarships.
"We are breaking cycles of poverty and inertia, and everyone having anything to do with this is contributing to that," Baskin said, pointing out a sign hanging in the store that declares in Hebrew, "if you purchased, you donated."
Already, Ani Shlishi made it possible for a 17-year-old at-risk youth to enroll in a program to become a professional lifeguard, typically a stable and well-paid vocation in Israel.    And another, age 15, disengaged from his family and with a history of drug dealing, is now tapping into his dancing talents and taking a course with the intention of becoming an instructor himself.
"To us, this might not be a big deal, but to them, these sparks are a very big deal," Kedar said. "They are not finishing high school and they are not going to college.  They need something practical as a path to self-sustainability.  With a skill, they can give back and feel of value.  That is huge."
Back at the store, Baskin was inspecting a few dozen bags of donated clothing that would be sorted for either sale, further donation, or recycling.   He himself was an admittedly "troubled" teenager, marked by a period of aimlessness and some brushes with the law, his path corrected with support of family, educational opportunities and IDF service.
"Like every single item in our store that was cast away and is now finding its rightful home, these at-risk kids are the same," Baskin said. "The mainstream systems aren't for them, they need something a little unique and we try to help them find their way and their place."
By H. Glenn Rosenkrantz, for The Good People Fund