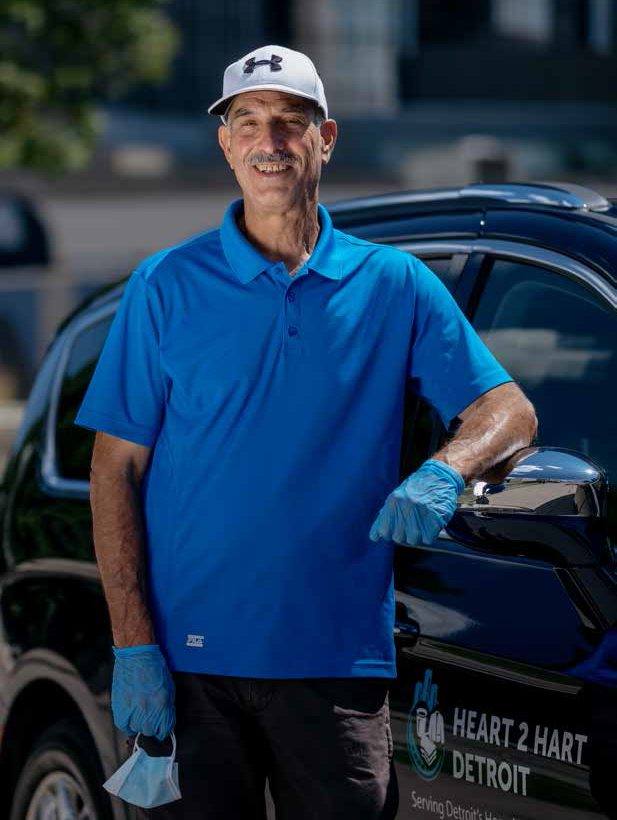 If you're looking for Larry Oleinick on a Monday, Wednesday, or Friday, just spot the blue Chrysler Pacifica that's parked in Hart Plaza in central Detroit.
It's there that he and a small contingent of co-workers set up an oasis, of sorts, for dozens of people who are homeless or experiencing severe hardship.
Here, they find outstretched hands holding sandwiches and snacks, a cup of coffee, a needed new hoodie or pair of socks, and any number of other life-sustaining essentials.
But perhaps most importantly, they find a community. Because it's in Hart Plaza, by the van, that they are known by their names, and they feel counted, and that means everything in a world that often shuns them or renders them invisible.
"The greatest gift we can give to people is letting them know they are not alone," said Larry. "We do that by showing up."
Larry founded Heart 2 Hart Detroit – a new grantee organization of The Good People Fund – in 2012, after a career in the dental supply business. Talk to him for any length of time, and it becomes clear how and why he landed in this place.
It was during his teenage and young adult years, after all, that his parents organized an extended-family project each Passover, setting up card tables in their suburban Detroit home and putting everyone on an assembly line to pack boxes full of matzo, candies, and other holiday items.
When that was done, everyone got a mapped-out route to deliver the boxes to those in need, including people in nursing homes and assisted living facilities.
"I was fortunate enough to have parents who wanted to get involved and help people," Larry said. "They modeled this for me and it rubbed off. Kindness doesn't just fall out of the sky, you have to make it happen."
The turning point came for him one hot summer Tuesday off from work, when he decided in the moment to take a cooler on wheels and some simple snacks to downtown Detroit and see who he could help.
"I realized the comfort I could give by handing a bottle of water and a bag of chips and a minute or two of conversation to people with virtually nothing," he said.  "Many of them had had one bad break and didn't make it back and their lives went spiraling down. That could happen to any of us.
"I'd been thinking about it for years. I wanted to get out of the business world and do something to help people all the time. So I took the leap. You don't need a degree for this. Just a heart."
Heart 2 Hart Detroit was born and established very shortly after that. With monetary and in-kind donations, it reaches about 100 people every day out in the field, and has grown to the extent that in 2019 alone, it distributed over 14,000 lunches, 140 winter coats, 6,100 hygiene product items, 5,500 pairs of socks, and the list goes on. And, all from that blue Pacifica van parked in Hart Plaza and now other locations in the city as well, like parks, shelters, and largely abandoned streets.
The organization is firmly rooted in the belief that interactions with those it helps are not merely transactional. Indeed, its success and deep impact is fueled by trust formed between those it helps, and Heart 2 Hart Detroit's staff and corps of volunteers.
"If you give people consistency and honesty and a smile, that goes a long way to build a relationship and grow friendship," Larry said. "We go way beyond food and clothing, to honoring them with integrity as individuals, and finding out what is going on and how we might be able to somehow help."
In fact, Heart 2 Heart Detroit has connected those it serves to community service organizations, rehab facilities, estranged family members, and even to potential employees. Larry freely gives his phone number to those he meets on the streets, a literal lifeline for some.
With the coronavirus pandemic affecting interactions and patterns nearly universally, Larry and his team are adjusting, but a level of intimacy has been lost, for now at least.
"There is now by necessity a lot of physical space between us and there are aspects that get lost when you can't hug someone or talk too closely. There is a confidence and a trust that is lost. We make sure they are getting everything they need, of course, but it is a challenge. Hopefully we can make up for all that is lost soon enough."
In the meantime, that blue Pacifica, with Larry at the wheel, will be there, as everyone who relies on it expects it to be. "Nothing will stop us," Larry said.
By H. Glenn Rosenkrantz, for The Good People Fund