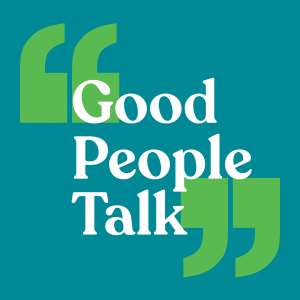 Our visionary and engaging partners talk about their drive and impact in Good People Talk, the monthly podcast of The Good People Fund. It's all about good people doing good in the world with creativity and hard work … and talking about it!
Find a new episode of Good People Talk here each month, or subscribe on SoundCloud. We'd love to hear your comments or suggestions too. So be in touch!
The Good People Fund is sending essentials to migrant individuals and families detained in indescribable conditions along the US southern border. GPF Executive Director Naomi Eisenberger speaks with human aid partners about the Jewish imperative to act.
Tagged as: Religion & Spirituality
We talk with Fran Held, Founder of Mitzvah Circle Foundation, a Pennsylvania non-profit organization and Good People Fund grantee that provides donated and purchased goods like clothing, children's books, toiletries, housewares and more to individuals and families in crisis.
---
Grantee Program(s) Featured in This Episode:
While in DC, we stopped in to talk with change maker Abby Sondak, Founder of Just Imagine. With support from The Good People Fund, her organization is giving summer overnight camping experiences to disadvantaged inner-city youth and leveraging the moment to prepare them for success in college.